Covid-19 Strategy
At The Dent Schoolhouse, the safety of our customers, staff, and show is top priority.  We maintain this by operational safety and cleanliness.
We recognize that customers and staff put trust in us to provide a scary, safe, and fun experience. This commitment has not changed!  While this will change some experience expectations, we aim to continue to provide fun and fright.  We want to supply a world class show that customers and staff have come to expect from The Dent Schoolhouse , while still complying with local, state, and government guidelines. We are continually monitoring government policy changes, Centers for Disease Control (CDC) guidelines, government mandates, and public health advancements.  We will continue to make changes appropriate to our protocols and procedures. This plan has been developed with research and consultation from local, national and international personnel and other similar attraction operators, to large public venues and theme parks, to other haunted attractions, the America Haunts organization, our legal team, our owners and mangers.  To top it off our plan was submitted for review by licensed public health professionals.
The following will serve as our plan for the September/October operating haunt season and will be updated and/or retained for November and December operating dates.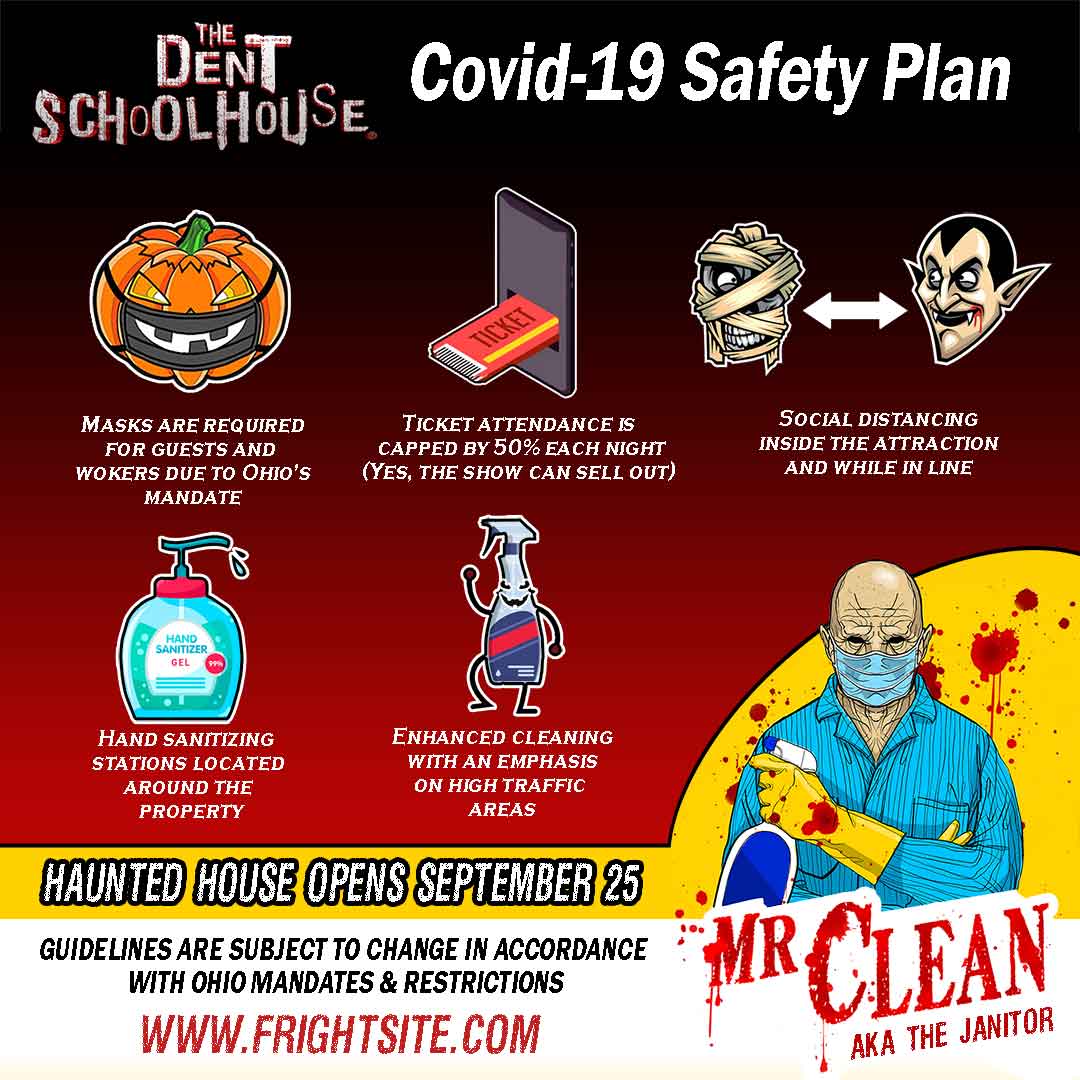 FAQs
Do I have to wear a mask to attend? – Yes, we are currently following local guidelines.
Do I have to purchase tickets online? –no… BUT we strongly recommend buying online, and buying early!  TICKETS WILL SELL OUT.  Buy tickets HERE!
Will you place groups together? – No.  Groups will not be combined this year to help social distance. 
Is the staff of The Dent Schoolhouse wearing masks? – Yes, we are currently following local guidelines.  However, we are finding fun/safe/spooky ways to make masks work for our monsters.  
Is Queen City Slaughter Yard open this year? – At the suggestion of local officials, QCSY is now a themed queue line for 2020.  This will allow guests more space to socially distance while waiting to go into The Dent Schoolhouse.  
Do I have to bring my own face mask? – No, we will have masks available for a dollar or collectible Dent face masks available at the gift shop.
Final Thoughts
Changes will be made according to updated guidance, and risk-level reductions.  Additionally, updated CDC measures of how businesses open, Ohio's Business/Employers – Covid-19 Checklist  will be followed as outlined in their 2020 publications.
As one of the leading haunted attractions in the Cincinnati tri-state and in the United States, we at The Dent Schoolhouse in Cincinnati, OH want to be transparent on our safety plan for 2020.  Now mask up… and get ready to experience The Dent Schoolhouse!
SOURCES
America Haunts.  America Haunts – COVID Response 2020 Committee reports and Basecamp.
CDC (2020, May).  Interim Guidance for Businesses and Employers Responding to Coronavirus Disease 2019 (COVID-19), May 2020.  Retrieved from:     https://www.cdc.gov/coronavirus/2019-ncov/community/guidance-business-response.html
CDC (2020, May).  Symptoms of Coronavirus, May 2020.  Retrieved from:     https://www.cdc.gov/coronavirus/2019-ncov/symptoms-testing/symptoms.html
Fear Factory – Bob Dunfield, Cindy Sharp, Heidi Dunfield, Keith Sharp, Robert Dunfield (2020).  Coronavirus / 2020 Protection, Safety & Contingency Plan 6.0 & Post-Show Opening Report.  Used with permission from Fear Factory Salt Lake City. www.fearfactoryslc.com
IAAPA (2020, July).  COVID-19 REOPENING GUIDANCE – Considerations for the Global Attractions Industry. 2nd Edition.  https://www.iaapa.org/sites/default/files/2020-07/2ndEditionIAAPACOVID-19ReopeningGuidanceDistribution.pdf
Ohio.gov. (2020).  COVID-19 Information and Checklist for Businesses/Employers.  Retrieved from: https://coronavirus.ohio.gov/wps/portal/gov/covid-19/checklists/english-checklists/businesses-employers-covid-19-checklist
Ohio.gov. (2020).  COVID-19 Information and Checklist for Businesses/Employers.  Retrieved from: https://coronavirus.ohio.gov/wps/portal/gov/covid-19/responsible-restart-ohio/Responsible-Protocols/
Ohio.gov. (2020).  Sector Specific Operating Requirements.  Retrieved from: https://coronavirus.ohio.gov/wps/portal/gov/covid-19/responsible-restart-ohio/sector-specific-operating-requirements/sector-specific-operating-requirements
---