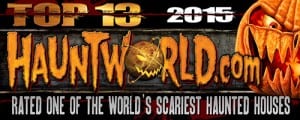 The Dent Schoolhouse was featured on Hauntworlds.com's Top 15 list for 2015!  #4
Hauntworld.com is one of the haunt industry's go-to websites for haunted house listings, how-to's, and Halloween fun.
Check out the full list and see how The Dent Schoolhouse did!!!
You can also check out this great video Hauntworld put together featuring the top 15!
---