Lights On 2019

WHEN:
Sunday- October 27th, 2019
4pm-7pm
(Rain Or Shine)
WHAT TO EXPECT:
Experience The Dent Schoolhouse with the lights on! Trick-or-treat through the halls of Dent and experience family friendly monsters. Candy and prize stations will be located throughout the haunt.
This event is great for all ages and is the perfect intro to Halloween and haunted houses. PLUS- you can see all the amazing detail and sets inside the attraction.
There will be several Dent Schoolhouse monsters outside for selfies and for a fun spooky meet & greet.  Inside- there are no actors/monsters trying to scare you as you go through this show. We turn down the music and turn up to the lights!  Props and animations will still be on for the walk-through.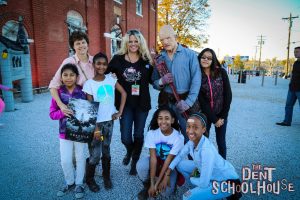 TICKETS:
You can buy tickets online or at the door.  Please note it is cash only at the door but there are ATMs onsite.
$7 – Kids 10 and under
$10- Adults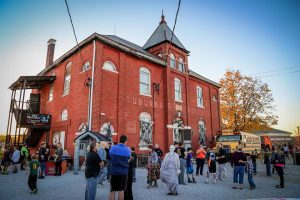 FAQ:
Can I come in costume?
YES!  This is our celebration of Halloween and haunted houses!
Can I take photos inside?
A- No.  We ask that you take photos with your eyes and not cameras once inside the attraction.  However, there are a lot of great photo ops outside and in the fall festival area that are available for sharing.
Where do we park?
A- Free parking will be across the street in our VIP lot.  This could get full so we have extra parking at Christ and Children's hospital which is right up the street.  This will also be free from 4pm-7pm.
If my party get's scared can we leave?
A- Yes.  We have emergency exits through the entire attraction.  We will also have staff peppered throughout your trip to answer questions and to assists as needed.
What happens if it rains?
A- The event goes on rain or shine.  Please feel free to bring umbrellas and proper rain gear while waiting in line.
---
The normal haunted house show will take place from 7:30pm – 10pm that night.
*No Refunds
---