To help with crowd waits and arrival times, The Dent Schoolhouse has added two time slots to Fridays and Saturdays.  When purchasing tickets you will see that you can choose a 7:15pm-9:30pm slot and a 9:30pm-11:59pm slot.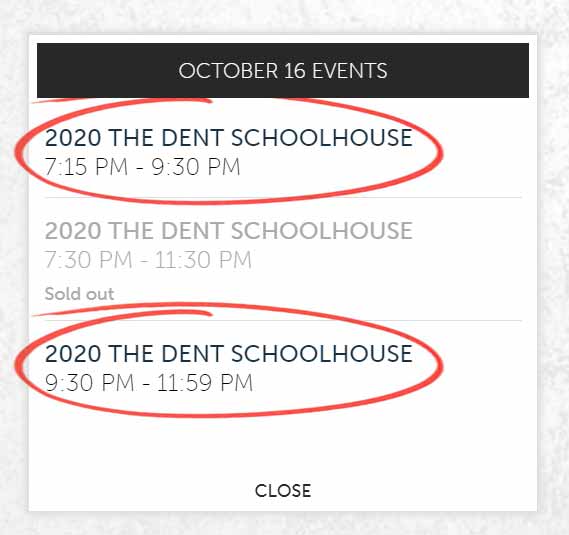 Don't be alarmed that the 7:30pm-11:30pm tickets are sold out… those are just the presale tickets and are valid during any time slot. 
You can arrive at any time during your purchased time slot.
We found that a majority of our guests were all arriving at the same time on the weekends during 2020.  So… to help shorten the crowd wait time and to better protect our crowds with the required Covid-19 guidelines we have added these two time slots for Fridays and Saturdays.
You will not be asked to leave or denied admission if you are running a smidge late for a time slot, we just want to help cut out some of the wait time and also add more spacing while you walk through the attraction.  We are constantly looking at ways to improve the haunted house experience … especially during Covid.
Yes, time slots will sell out… so buy early and you MUST purchase online.  No tickets will be sold at the door due to limited ticket quantities.  You can either show the tickets on your phone or print them out.  Either way works for us!
Remember:  OPEN RAIN OR SHINE.  NO REFUNDS.
---